Innovation
What Is A Waist Shaper? Do They Really Work?
by customer care on Mar 03, 2022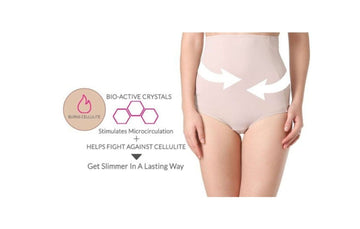 A waist shaper is a type of short corset that hides all the extra fats in the waistline by distributing and compressing it. It makes the waist look smaller and fitter than its actual size.
There have been many concerns – mostly baseless about how a waist shaper can cause harm. Nothing could be further from the truth! Often ladies make the wrong choice or size and end up hating the waist shaper – which after one use ends up in a corner in the closet.
When you buy the perfect waist shaper, you will be astonished by the benefits. The results are always flattering when you look fabulous. It is obvious that every woman to want a perfect figure – and a good waist shaper will help you get the look. It is an investment that every woman should make – so that she doesn't get any second thoughts before wearing that gown for Saturday night!!
Belly fats are the most annoying and stubborn fats, it is very difficult to get rid of them. This fat accumulation can be reduced through exercise – but most people don't have the time for it. For them, a very good solution is to invest in a good quality waist shaper to get the spectacular hourglass figure of their dreams.
Do Waist Shapers Work?
Yes, waist shapers really do work! You just need to find the right one! Here are some benefits of wearing a waist shaper!
#1.Absorbent And Breathable
A waist shaper is made using breathable fabric so that there is air circulation and your skin is able to breathe. Additionally, the fabric also absorbs sweat and has a moisture-wicking feature so that you don't feel sweaty.
#2. Supportive
A good waist shaper not only gives you an hourglass figure but also provides you with the necessary support on your back for good posture. It is very helpful to reduce back pain caused due to bad posture. The stubborn bumps and lumps are compressed inside the waist shaper – giving a dreamy trim midsection, which every girl wants.
#3. Suitable For Everyone
The waist shapers can actually do wonders for your final look and are the best choice for plus size ladies. You need to choose a waist shaper one size larger than your actual size as it has 2-3 hook rows for easy adjustment. But, if you pick too small a size – you just won't be able to get into it. The spiral structure offers ample support to the back and helps you to look 2-3 inches slimmer instantly.
#4. Great For Everyday Usage
Waist shapers are made with a good latex material and have an inner soft cotton lining to provide maximum comfort. It can be used regularly to achieve a fabulous figure. It does not roll up and down but will keep in place. It is a comfortable garment and you can work in, go for walks and exercises – by wearing it underneath your clothes. No one needs to know!!
#5. Available In Different Colours
The waist shapers are available in a variety of colours and sizes. You can pick the colour which suits you the best – black or nude.
Also read: How Slim Can A Backless Body Shaper Make You Look?
#6.Promotes Weight Loss
The band around the waist rapidly increases thermal activity, because of which you sweat profusely. This increases the weight loss process – and all you need to do is wear it!!
A waist shaper is always the right choice for you, it boosts confidence and provides the perfect hourglass figure.
Check out the waist shaper here.
Best Waist Shapers In The Market
#1.Tummy Tucker
This Tummy Tucker breaks down stubborn fat cells and tones the tummy and waistline beautifully. It is totally safe to wear as it is OEKO-TEX® certified and friendly on the skin. The body shaper is washable and made using 89% of Nylon and the remaining 11% is Spandex. The tummy tucker in different sizes like XL and XXXL.
#2. Bermuda
Adira's Bermuda Shaper is made of a unique fabric with Active bio crystals which upon contact with the skin absorbs body heat, which is turned into far infrared rays (FIRR). These rays then heat up the skin and increase the metabolism through the release of the body's own nitric oxide, a very potent blood vessel dilatory agent, which improves blood flow and oxygen supply at the skin level. This helps to reduce the appearance of cellulite. The release of nitric oxide also helps to reduce the amount of extracellular liquid. For best results use 6-8 hours a day for a period of 30-60 days.
Conclusion
Waist shapers have become increasingly popular among people who want to achieve a slimmer and more defined waistline. While they may provide temporary results, it is important to remember that they do not offer a long-term solution for weight loss or body shaping.It is important to choose the right size and use them in moderation to avoid risks.
Ultimately, the decision to use a waist shaper should be made carefully and with consideration for your personal health and goals. It is always recommended to consult with a healthcare professional before starting any new weight loss or body shaping regimen.
Have you tried waist shapers? How has your experience been? Share below!
Shop all Adira essentials including plus size under shorts for an extra 10% off using code "GETINSHAPE"