Health & Hygiene
How To Maintain Personal Hygiene: Tips You Must Teach Your Daughter
by customer care on Mar 03, 2022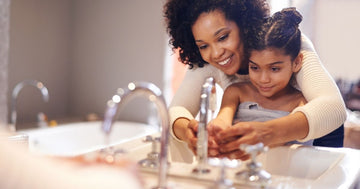 Adopting habits that promote personal hygiene is the first step to maintaining good health. Young children often find these habits monotonous and boring, however, it is important for you, as a parent, to make them understand how important it is. Sit down with your daughter and talk to her about things like –
Bathing Regularly And Keeping Face Clean
Children sweat a lot which makes them prone to bacteria; hence, teach your daughter to shower daily using a mild soap. Encourage her to wash her face often throughout the day as it will help reduce zits and pimples on her face and boost her confidence.
Keeping Vaginal Area Clean
Explain to your daughter how important it is to maintain intimate hygiene by daily washing her vaginal area. After washing, however, she should always use a towel to dry-off to avoid build-up of moisture as it increases chances of breeding fungus. Talk to her about trimming her pubic hair if she finds it necessary and the options that can be considered.
Also read: Time To Learn About Your Vagina And Caring For It
Washing Underarms Area Well
Most of the sweating occurs in the underarms area and it also gives off a very bad smell which can become embarrassing for your child. Teach your daughter to pay extra attention to underarms area while taking a bath and to apply powder as well. This will make her feel fresh and help fight off the sweat-smell as well. 
Keep Nails And Hair Clean
Showering regularly using a hair cleanser is essential to get rid of all the dust and dirt that gets tangled in the hair. Trimmed nails are better, however, if she is interested in keeping long nails then encourage her to wash her hands regularly and make sure that her nails are clean. Explain to her how keeping dirty nails can affect her health. 
Maintaining Hygiene During Periods
Young girls often slack on maintaining personal hygiene during their periods which can be very unhealthy. Sit with your daughter and talk to her about how periods is a natural process and that it happens with every woman across the world. Show her this fun educational video about puberty to explain things to her in a way she would understand. Explain to her that by maintaining personal hygiene during periods she can avoid infection and remain healthy. You should teach her to –
Wash her vaginal area regularly and wear clean period panties.

Encourage her to change her pads often (every 3 – 4 hours).

Teach her to wash her hands every time she changes her pad.
Also read: Skincare Tips For Your Growing Daughter
Ideally, you should also teach your daughter to take up habits that would promote public hygiene and cleanliness. Teach her the correct way to dispose of the pads and ensure that the toilet is clean after she is done for others to use.
If your daughter is scared of stains and leaking during periods then getting a pair of period panties or leak-proof panties would be a great idea as it would boost her self-confidence. You can also gift her a period starter pack which comes with a fun-educational book on puberty that also talks about and illustrates how to maintain personal hygiene which to imbibe from a young age itself is important for your daughter.
The most important thing is to try to be her friend on this journey into womanhood. Show her that you understand what she is going through and don't make fun of her questions, instead, tell her that her fears are justified but there are solutions and you will help her. 
Also read: Talk To Your Daughter About Periods
Conclusion
Teaching your daughter about hygiene is a crucial part of her overall health and well-being. By instilling good hygiene habits from a young age, you can help her develop a lifelong commitment to staying clean and healthy. 
Remember to emphasize the importance of washing hands, maintaining good menstrual hygiene practices, and practising good oral hygiene. 
By teaching your daughter about hygiene, you are setting her up for a lifetime of good health and self-care. 
Shop all Adira essentials including leakproof panties for an extra 10% off using code "GOODHYGIENE"